Google's 25th anniversary
Google, everyone's favorite search engine, celebrated its 25th birthday today, September 27, Wednesday, with a doodle. Taking a "trip down memory lane," the company displayed several drawings on its birthday throughout the years. The most recent one includes a GIF that changes 'Google' into 'G25gle' to celebrate the 25th anniversary. When you click on the logo, confetti appears on the website.
According to Google's website, Sergey Brin and Larry Page originally met in January 1997 at Stanford University. This interaction occurred when Sergey Brin, who was already a Ph.D. student at the university, was requested to show Larry Page around campus when Page was considering attending Stanford. And, Google's journey started.
The text reads: "A lot has changed since 1998 – especially our logo, as seen in today's Doodle – but our purpose remains the same: structuring the world's information and making it globally searchable." Making accessible and valuable." In the last 25 years. We are excited to see where the future brings us all."
The Beginnings of Google 25 years ago
Sergey Brin and Larry Page met in the late 1990s as doctoral students at Stanford University's computer science school. They learned that they both shared a common goal: to improve the accessibility of the World Wide Web. They both worked tirelessly from their dorm rooms to create a prototype for a better search engine. As the project developed, they shifted their operation to Google's beginning job environment, which was a rented garage. Google Inc. was established on September 27, 1998.
Google's history
Sergey Brin and Larry Page, both pursuing doctorates at Stanford University, started Google in the late 1990s. The two quickly discovered that they shared a similar vision: to make the World Wide Web more accessible. Google was established on September 4, 1998, and Google Inc. became a public company on September 27, 1998.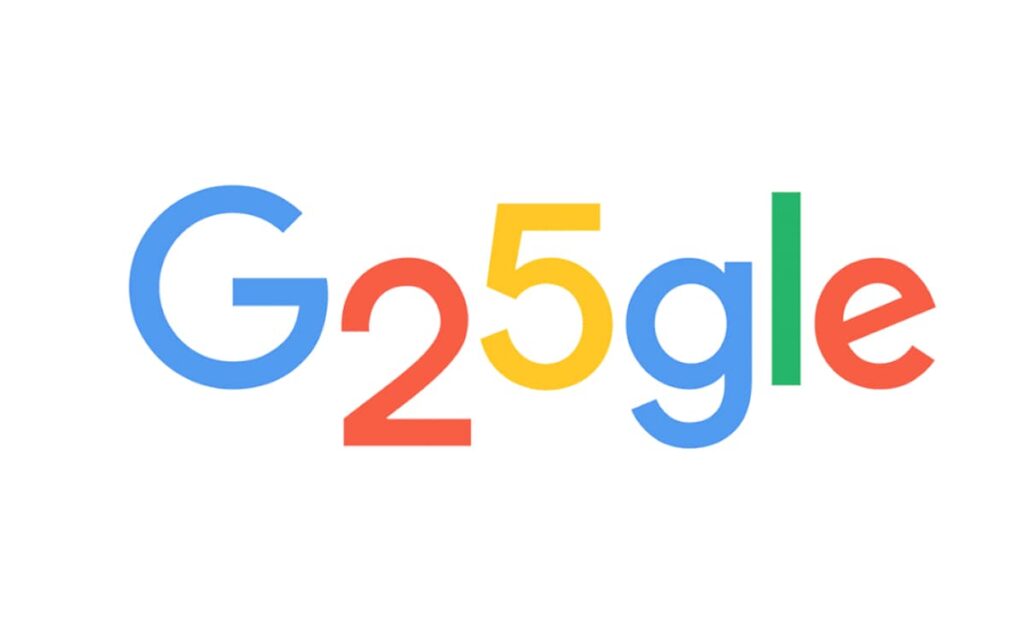 While the company celebrated its birthday on September 4 for the first seven years, it opted to move its celebrations to September 27 to fit with the announcement of the search engine's record number of pages.
Sundar Pichai, the current CEO of Google, took over for Page on October 24, 2015. Meanwhile, Page has taken over the same position at Alphabet Inc. Pichai became the new CEO of Alphabet on December 3, 2019.
As a result, the company was successful.
If we were to describe in simple terms why Google became so successful, there are two key factors. First, a simpler user interface, and second, improved search results. Because of these two factors, the company initially gained popularity and eventually kept growing. Google began to develop its market domination as it got funds.The business created its market identity by developing the Android mobile operating system, which included Gmail and YouTube, which we all use today. Google Bard, an AI tool, was also recently released by the corporation. The browsing experience will differ as a result of its support.
Google's birth date has been changed many times
Google's birthday was earlier celebrated on different dates. First the birthday was celebrated on 7th September, then Google's anniversary was celebrated on 8th and then on 26th September. Then the company announced to officially celebrate Google's birthday on September 27 because on this day Google had set a new record of page search number on its search engine. That means 1,2,3,4 etc. which we see at the bottom of the Google page.